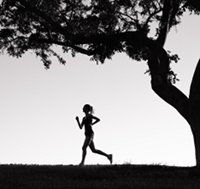 In our new series of posts, we follow Lincoln based fun runner Louise Jones as she trains for the London Marathon.
Describing herself as a "cake loving, weight watching road runner who takes running seriously when in training but is far more relaxed the remainder of the year" – Louise tells us how she got started with her running, and what she hopes to achieve in the coming months.
Louise's Running History
I'm in my mid 50's, a mother and housewife who has always worked full-time in an office. I love eating cake and cheese, (though not together unless it's cheese cake!) – so I initially returned to running in order to keep my weight down and capture some "me time", where I could gather my thoughts and clear my head after work.
After some persuasion from a friend I ran my first half marathon in February 2007, though just four weeks previously I'd never run further than six miles in one go.
My build up to this half marathon was ten miles one Saturday morning, eight miles the following Saturday, and a repeat of the ten mile route on the third weekend. By the fourth Saturday it was time to run the half marathon distance of 13.1 miles. Naivety and stubbornness saw me finish in under two hours – and the bug of longer distance running was alive!
Over the coming weeks I had a personal need to say a big thank you to St. Barnabas Hospice in Lincoln, and raise awareness about the great work they do. So I decided to run a European marathon for sponsorship later that year (2007). I finished in four hours 16 minutes and raised just over £2,000. With marathon number one now under my belt, the question to myself was – 'could I go under 4 hours'?
Once the pain of my first marathon had gone away, I realised that I had actually enjoyed the whole experience – and signed up for marathon number two in the following May of 2008. I was delighted when all my training paid off and I cracked the four-hour mark with six minutes to spare!
By now I really loved my running, and found it to be above all great fun. Over the next few years, therefore, I ran both a spring and autumn marathon – bringing my time down to three hours, 20 minutes and 19 seconds. My aim now is to knock off those 19 seconds 🙂
So, how have I managed to do this? By reading about running, listening to others with the right experience (such as Roger and Mark Baddeley) – and by changing my diet (though not cutting out cake or cheese totally!). I also have a training plan that gets stuck to the fridge for the period of training.
Most importantly though – I'm able to continue with my running because my husband and family support me wholeheartedly, and that makes all the difference.
Roger's Training Tips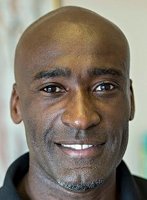 To avoid injury when training for a marathon or any distance event, it's important to ensure that you introduce some strength training into your programme, warm up properly first – and remember to warm down afterwards too.
It's also a common mistake to only do running based exercise in your training for a marathon. It's these runners that I see in the clinic, normally at the later stages of their training programme as the loading increases.
Muscle strengthening exercises, such as resistance training with weights or exercises to overload the muscles – will help to protect your joints and prevent an unfortunate injury.
Recovery is also an important part of training and should be scheduled into your programme. This can be achieved via cross training to allow your 'running muscles' to recover from the impact work of running. Alternately, you can undergo a reduced period of training known as a recovery week.
Recovery periods are an excellent way of allowing the muscles, joints and nervous system – both central and peripheral – to recover from the work that you have been doing. This period also allows for a process called 'super compensation' (PDF download), where your body makes gains subsequent to training and not during the actual workout.
________________________________________________________________________________________________
If you're worried about a training injury and need help from the team at Liberty Physio + Rehab, phone 01522 693333 or click here to contact us. Our specialists include Roger Cleary, Alison Noble and Javin Pillay.