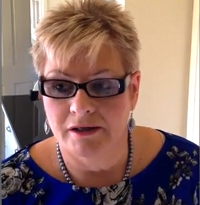 In the second of her recovery diaries, brave double knee replacement patient Izzy Hinchcliffe gives us an update on her progress, and shares her thanks for everyone who helped get her through these two major operations…
First of all, I would like to thank Roger Cleary and all the team at Liberty Physio.
Throughout my two knee replacement operations, Javin in particular was extremely helpful, kind and understanding.
Thanks again to my orthopaedic surgeon Mr David Hahn.
I'm also extremely grateful to my wonderful family and friends for their tremendous support during my operations.
I had my first total knee replacement on 7/11/13 and my second one on 13/2/14.
When I think back, it was a bit ambitious to have them so close together, and if I had to do it again, I would wait six months rather than 13 weeks.
I had major surgery for bowel cancer in June 2012, and then six months of chemotherapy. I just wanted to get my life back to normal.
It's not been an easy journey following the second knee operation. I found it even harder sleeping at night because I was very uncomfortable in bed.
When you are tired the last thing on your mind is bending your knee and doing the exercises every day. I must admit, I did not do this and it made my recovery much slower.
It's been much tougher than the first operation but I am really pleased with the result so far.
I am proud to say I can now do the following:
Get in and out of the bath by myself.
I've not been able to do this for at least 5 years.
Play 18 holes of golf with a buggy
Golf is my passion and for those who don't know the sport, it involves four hours of bending, turning and stretching your body in all sorts of positions. I use a buggy rather than walking, but I hope to walk 18 holes in the next few months.
Having two knee replacements has made a big difference to the quality of my life.
The pain from severe arthritis makes you so restricted in doing things – you begin to believe you have no other options. If you are like me, I felt my mobility would get worse and worse.
I've been in pain for the last five years and have been on quite strong medication, some of which did not agree with me. I now only take paracetamol and ibuprofen as prescribed by my doctor.
To anyone considering having knee surgery, it's not easy – but if I can do it, anyone can. But you must do your exercises!
To show here remarkable recovery, here's a video of Izzy out on the course. Turn up your volume to hear what she has to say:
Izzy shows her mobility out on the course…
---
If you'd like to book a session with a physiotherapist, call now on 01522 69 33 33 or click here to book a consultation in our Lincoln clinic.