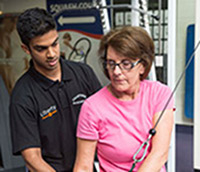 A total knee replacement is a major surgical procedure and requires the correct mental and physical preparation, which is the first instance where physiotherapy can help.
In order to give yourself the best chance of a positive outcome and a full recovery, correct pre-operative preparation and postoperative rehabilitation are vital. These are the ways that you can take control of your situation and manage your recovery.
Pre and postoperative care is based upon guidelines, but should be focused on the individual, their specific situation and requirements.
Before her surgery, it was important for me to assess Izzy to determine what treatment she required in preparation for her surgery – and what would benefit her post operatively.
This can involve strengthening muscles around the hip, knee, abdomen and lower back as required. The reason for this is to help prevent a limp and other aches and pains before the surgery, but also to improve the efficiency of rehabilitation post operatively with a speedy return to activities. Also at this stage we could treat other issues as required (such as lower back pain), so post operatively the focus could be solely on the knee.
As you can see from Izzy's diary, commitment and patience are required, especially during the first couple of weeks when returning home post operatively.
During these early stages when we began physiotherapy, the focus was mainly on manual therapy (including massage), which helped to reduce Izzy's pain, and some basic exercises to improve her range of movement at the knee.
At this time, Izzy was not able to drive so I visited her at home for treatment sessions. Moving forward, we created a programme including home exercises (providing the suitable equipment), progressing on to gym based rehabilitation and exercises in the swimming pool.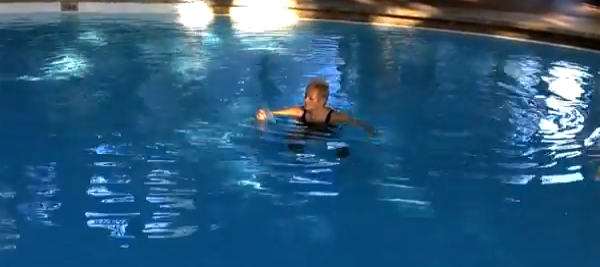 This variety of exercise helped to keep Izzy motivated and was also a way to keep her progressing with her recovery. Because Izzy is a keen golfer, parts of her rehabilitation were tailored to enable her to make a quick return to the golf course.
Throughout her rehabilitation, Izzy could contact me at the clinic if she required advice on any of her rehab programme. She could also get in touch if she was having a bad day with her pain and wanted to book an extra treatment session either at home or at the clinic.
The manual therapy and exercise programme provided Izzy with the tools to make a full recovery, but without her hard work and commitment throughout her rehabilitation she would not have been able to reach her goals as efficiently as she did.
---
If you'd like to book a session with a physiotherapist, call now on 01522 69 33 33 or click here to book a consultation in our Lincoln clinic.