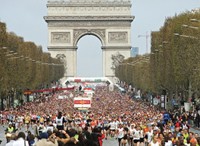 I have run since I was 10 years old, and as a child I was a decent club runner.  As an adult I have enjoyed just training and the occasional race. In 2004 I had my little boy, which stopped all my running. I have to admit I did wonder how I would feel not being able to train or run after I had my son, however he was the most wonderful change in my life and everything was great.
In 2007 I began jogging once a week; this was almost harder than not running at all as I felt I had gone from being a decent runner to a jogger. I did my first half marathon soon after starting jogging – and to just complete it felt good.
As my son got older and joined sports clubs himself I was able to run three times a week, and last year I did 3 half marathons and a 10K.  Although training was irregular and fitted around family life and work – I had the bug again. But after each Half Marathon my knees were very sore.
My First Marathon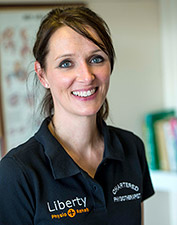 Throughout my running life I had always wanted to do a marathon, so last year I thought I should try and do just one before my knees weren't going to let me. I didn't get into London so I entered the Paris Marathon on April 2014.
I started training in September 2013 when I had a lodger to stay for six months. My training plan was not at all perfect, I knew I would have to get my miles in during the period up until January, and after that I needed to stay fit and try and increase the quality of my runs and speed work hoping that I would arrive at the marathon strong enough to do it. It was hard work in the winter months as most of my training was done at 5.30 am, and certainly was not quality running at that time!
By Christmas I had completed a 20 mile run and felt good, and thought at that point not only was I going to do it, but I also might be able to do it in a time of 3 hrs 40. However, soon after that I pulled my right calf so I substituted running miles for biking on the turbo-trainer in the damp cold garage. I found it dull and hard work – thank goodness for good music!
I tentatively began running again, but creeping the miles back up was difficult as my calf kept getting tight, so I mixed it with the bike session and some two and three hour CV sessions in the gym. At the time I found it frustrating but I think it did me some favours in hindsight, not to overdo miles and get better leg strength.
Soon after this I trapped a nerve in my arm that was incredibly painful, but I was still trying to catch up on training so I pushed on and Roger treated it until all I was getting was pins and needles.
Three weeks before the race I did another 19 miles. I felt ok, a lot slower than previously – but I hoped I might still get round in under four hours. My ideal time would have been 3.50 as that would have been a good for age time.
After the 19 miles I was a little scared to run that week as I didn't want to pull my calf again, so I did an hour a day on the turbo. By the next weekend I could hardly complete seven miles, but I think I was a little carbohydrate depleted and heavy legged from cycling.
The week prior to the marathon I increased my calorie intake, and drank more water and an electrolyte every day. I decided to work out my pacing for 3.50 and see how far I could keep it going for, and carry enough energy gels for one every three miles.
The Race Itself
The morning of the marathon I was incredibly nervous, it was a beautiful morning – sunny and 17 degrees. I was shivering uncontrollably with nerves, and it took me back to childhood national races when I would feel the same – but this time I was unsure if I was going to be able to complete it never mind in the time I wanted.
As the start line got nearer I got a sense of mental strength and I became focused. The atmosphere was fantastic as the race started and the sights just beautiful in Paris. I had done three miles before I knew it and was one energy gel down.
I drank at every station and kept to my pace. Unfortunately, I had not accounted for how busy it would be and how you were constantly dodging around for space. I hit the half marathon stage at the time I wanted and knew I had only five more miles to get to the Eiffel Tower where my son would be watching, which was my next aim.
Along the banks of the Seine you ran through long dimly lit underpasses where they had music playing, and the sound in the tunnels was amazing. The crowds were also really encouraging and it helped being called Ali as everyone was shouting Allez allez!
I got to 22 miles and still felt good and thought for the first time I was actually going to complete my first marathon. However, soon after this there were sirens and ambulances out on the course picking up people who were in a bad way, so I kept my head down and continued to concentrate.
At 26.2 miles on my watch I had a time of 3.50, however I still had half a mile to go so I finished the race in 3.53. I cannot describe the feeling when I crossed the line. And I cannot wait to do another marathon – but with better preparation and in a better time. My knees have been ok and got better the stronger I got, so I think I can manage another!
What I have learnt
Strength training and more core work are need for my next marathon.
I need to improve my recovery nutrition during training.
The cross training was invaluable, and the quality of runs rather than miles will be as important next time.
I need to work out a pace as if I were running 27 miles – to account for the extra distance run when it's busy!
Gels every three miles maintained my energy levels and also broke the race down into small achievable milestones.
---
If you've sustained a training injury and need the assistance of a professional physiotherapist, call now on 01522 69 33 33 or click hereto book a consultation in our Lincoln based clinic.