Osteopath Joseph Dale is the latest addition to our team at Liberty Physio & Rehab. A former Royal Marines Commando and keen county level athlete, Joseph was inspired to enter the manual therapy profession after witnessing his colleagues recover from life changing injuries in Afghanistan – to then be able to compete in marathons and triathlons.
In this introductory Q&A, we asked Joe more about his leisure interests, inspiration and career – and found out what attracted him to Liberty Physio and the care packages they provide for patients.
Tell us a bit about yourself and what you do in your leisure time?
I've always been a keen athlete. As a teenager I competed at county level and I still enjoy mountain running and wild swimming, regularly competing in events around the world.
After leaving school I joined the armed forces as a Royal Marines Commando, I served on operations and exercises from the arctic circle to Sierra Leone before leaving to pursue a career in manual therapy. I spent five years training to become an Osteopath and I currently treat a variety of clients both in Lincoln and at the Olympic Park in London.
What did your service as a Royal Marines Commando teach you?
When serving in Afghanistan I saw first-hand what the human body is capable of, both in terms of endurance and also in terms of ability to recover from injury. The body has an incredible ability to heal itself with the right encouragement.
What inspired you to specialise in Osteopathy?
Seeing colleagues recover from life changing injuries to the point where they could compete in marathons and triathlons raised my interest in both the physical and mental aspects of injury recovery. I was drawn to Osteopathy because of its hands-on approach to treatment and also because it considers both physical and emotional aspects of injury recovery.
Where did you train and what qualifications do you hold?
I spent five years completing a Master's degree in Osteopathy at the London School of Osteopathy. Whilst studying I worked as a sports massage therapist.
Tell us about your early career after you qualified?
Immediately after qualifying I was approached by a multi-disciplinary centre based in the Olympic Park, London. I am still based there two days a week and work closely with elite athletes. It's highly rewarding to see the effect my treatment has on both their injury recovery and sporting performance.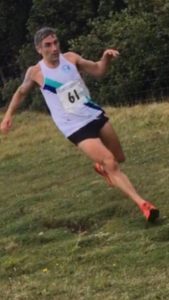 What attracted you to Liberty Physio as a place to practise?
I was introduced to Roger Cleary and immediately realised that we had a very similar philosophy with regards to injury recovery, namely using a combination of therapies to get people injury free as quickly and effectively as possible.
We share a belief that sometimes the best route to recovery requires different practitioners combining their knowledge. At Liberty Physio I can discuss complex cases with a range of different practitioners, and by sharing our wisdom we can give patients the best possible results.
What type of care packages will you be providing at Liberty Physio, and how will this tie into the work of the whole team there?
During an initial consultation I get to know my client as well as what is causing and maintaining their injury. I want to know what makes them tick as well as finding out any physical anomalies that may have predisposed them to injury. After the initial consultation I can make a tailored plan for the patient. Depending on how many treatments will be needed I can offer a discounted package for the full course of treatment.
"When serving in Afghanistan I saw first-hand what the human body is capable of, both in terms of endurance and also in terms of ability to recover from injury."
What are some of the main types of injuries and conditions you identify and treat?
I treat a variety of injuries but as a consequence of treating athletes the majority are musculoskeletal.
How can people avoid injury in the first place – both at work and playing sport for example?
Although it's impossible to completely eliminate the risk of injury it's certainly possible to minimise it. As part of my treatment plan I can offer simple stretching and strengthening techniques tailored to the individual – depending upon their body type, exercise regime and injury.
How important is diet in aiding movement health and staying injury-free?
A healthy, balanced diet is an essential part of achieving optimum health. What constitutes a healthy diet is dependent upon a number of factors – including the type of training you carry out, your body type and the injury you're recovering from. It's essential to get to know a client before offering meaningful dietary advice.
What's the next step if I'm worried about an injury or am training for an event and need to come and see you?
You can phone Liberty Physio on 01522 693333 or email our team at mail@libertyphysio.co.uk to book an initial one hour consultation.