Why Pain Needn't Rule Your Life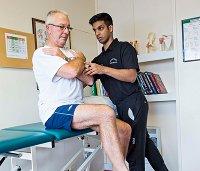 Perhaps it started with a twinge in your back that you couldn't get rid of. It could have begun as a little niggle in your knee. Or maybe you woke up one morning with a stiff neck or shoulder that never got better.
Whatever the symptom, it's easy to let minor ailments become painful conditions that stop you living your life in the way you want to. But it's important to know that this kind of pain is not inevitable and can be successfully treated with a structured physical rehab programme that's designed especially for you.
As a chartered physiotherapist, I learned a lot in my physio education. But in my first year in the profession, I'm still surprised at how many people live with pain. I've heard too many stories of deteriorating health and wellbeing from people with conditions that, at the very least, could have been controlled and, at best, may have been completely resolved.
More and more people seem to accept pain as part of everyday life without seeking further help. Often they hope things will improve by themselves. But when they don't, they can end up altering their lifestyle to compensate. When everyday activities including sleeping, sitting, standing, bending or lifting are affected, as well as pleasures like playing sports or even doing the garden, it's often because pain has become unbearable.
The problem is, ignoring the first signs of pain can make things worse. By the time I see them, some patients struggle to get out of bed, can't go to work and feel there's nowhere else to turn. Digging deeper, I can find that they've had an issue for weeks or even months, with only a prescription from their GP to help dull the pain.
In my experience people don't like to bother their GP unnecessarily, so when they do it's either for medication or because they don't know where to turn. But there's no reason why these people can't come for physio treatment alongside visiting their GP when they first start to feel a twinge of pain. In fact, early intervention can mean patients need less intense treatment – and combining GP care and physio rehabilitation can free you from pain much faster.
A typical physio rehab programme will offer a variety of techniques, from manual manipulation, through exercise and electrical therapy, as well as advice on understanding and managing your individual symptoms. The aim is always to not just relieve pain in the short term, but to keep the problem away in the future.
If you're feeling the first signs of pain, now's the time to get in touch.
Please give me a personal call, with no obligation, any Thursday afternoon from 2:00 until 5:30. I'll be answering the phones at Liberty Physio + Rehab and can give you more information to help you decide if our rehabilitation programme can help free you from pain. We work flexible hours and have a gym and a hydrotherapy pool on site. We'll even visit you at home if you need it.
And if I'm busy, one of our other chartered physiotherapists will take your call.